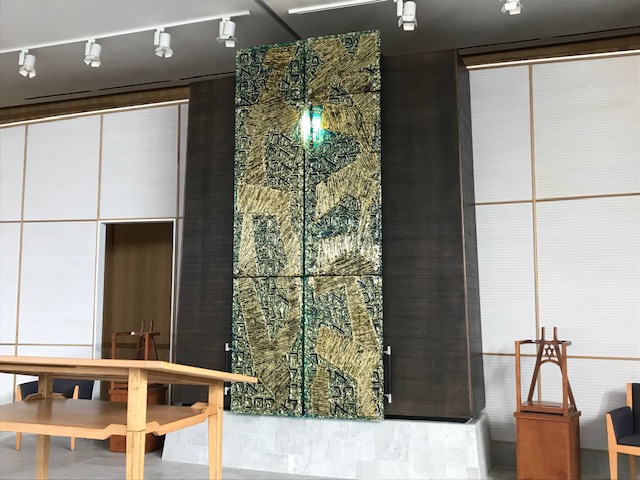 By Steven Hirsch
This year's High Holiday celebration was just a little sweeter for members of the West End Synagogue family. For the first time, congregants who were present and those on Zoom experienced the newly renovated Sanctuary and Social Hall spaces at the synagogue.
While the visually obvious improvements including new ceilings, windows, floor and wall tile, lighting, etc. make the space more beautiful, the infrastructure improvements including new HVAC, fresh air handling system, exit doors and sound system provide a safer and heathier environment for the congregation. The capacity of the social hall for high holiday seating and for general social functions has been expanded by opening space on the north wall that was previously used only for storage.
Although the actual construction project lasted 10 months, the vision, planning and fundraising for this work happened over a much longer period. In fact, discussions about upgrading the main public spaces of the synagogue date back more than 10 years, but it was approximately 4 years ago that the WES Board of Directors made the determination to embark on a Capital Campaign to fund much needed renovations in the building and to establish a new rabbinic endowment. A capital campaign cabinet was organized, and renovation concepts were developed with architect Lesley Beeman of Manuel Zeitlin Architects.
The renovation work was very much a "made in Nashville," proposition. In addition to the local architectural firm, the synagogue engaged with a variety of Nashville companies and local artisans including the McClure Company (project management), Weick Construction (general contractors), Gallagher Staging (design and build mobile bimah), and Limor Steel (structural steel). Custom design and fabrication of the ark cabinet was done by another local firm, Hartert-Russell and the back wall of the bimah was hand made by local artist Kevin Ansell utilizing a Venetian Plaster technique that dates back a thousand years.
"What has really made this renovation possible has been the generosity of our congregational members and others in the Nashville Jewish community who understand the importance of WES as the regional presence of Conservative Judaism in the Middle Tennessee," said Rabbi Joshua Kullock.  "We continue to reach out to all members of the congregation to give them an opportunity to be a part of this campaign, which is by far the largest in the history of the synagogue. To date we have received more than 120 gift pledges and have achieved close to 85% of our fund-raising goal and we are confident that we will get to 100%."