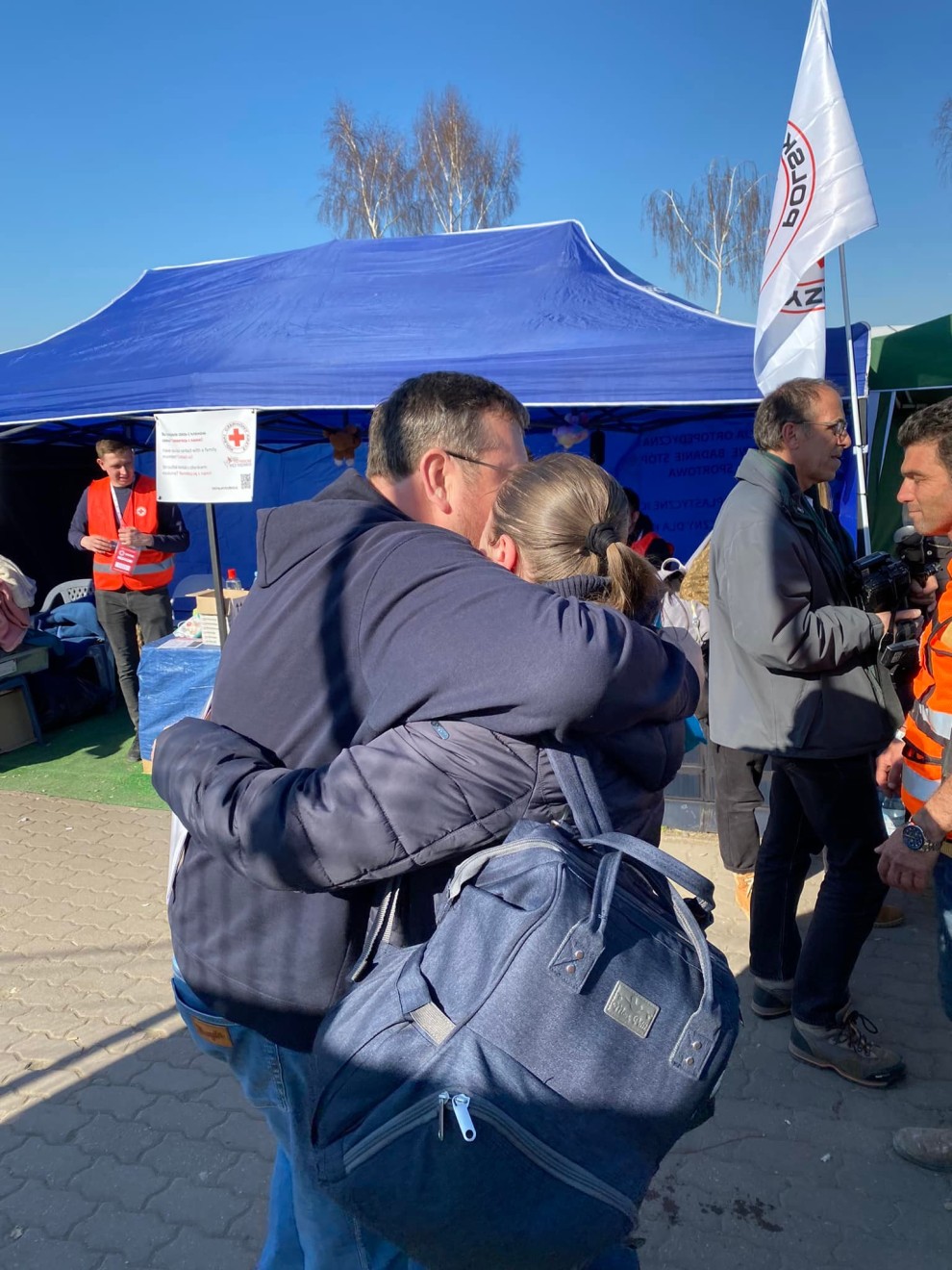 Aron Karabel and Abby Eisen Goldstein, Co-Chairs of JFNA National Young Leadership Cabinet visit the Polish border to witness Ukrainian refugees fleeing their country 
By Aron Karabel
Editor's Note: Jewish Federation and Jewish Foundation of Nashville and Middle Tennessee Board member, Aron Karabel, spent 36 hours in Poland as part of a JFNA emergency mission to provide support, supplies, and to bear witness to the unfolding refugee crisis in Ukraine. Aron is also the Co-Chair of the JFNA National Young Leadership Cabinet and has just spent an additional week in Israel. He posted the following reflection on his Facebook page, along with photos and videos, from the ground at the border town of Medyka. Additionally, Aron and the roughly 20 other participants brought with them 5,000lbs in donated clothing, diapers, and other basic necessities. With Aron's permission, we are reprinting his post as it reflects his real time impressions of the unfolding humanitarian tragedy. Videos can be viewed on The Observer's website, www.jewishobservernashville.org  
I'm privileged, period. There is no other way to see it after what I have witnessed these last 36 hours. 
Abby Eisen Goldstein and I were on a 6:30am flight from Warsaw to Tel Aviv this morning. I could count on one hand the number of men on this flight. Over 160 women and children boarded this morning and according to the flight crew most are from Ukraine. Their eyes say everything. They look exhausted and broken. It was also eerily quiet even with a flight filled with children including newborns. 
It's hard to imagine that in 2022 we are faced with a global humanitarian crisis ripping families apart and forcing millions of women and children to flee leaving their husbands, fathers and partners behind to defend their homeland. Nobody should have such destructive power through an unjustified and unprovoked war.   
Yesterday, on the border near Medyka, we witnessed something that will stay with me and haunt me forever. We watched several women and children walking through the border. The children were holding tattered stuffed animals and multi-color backpacks. We saw elderly in wheel chairs helpless and waiting for assistance to move from one area to the next. At the gates, families were greeted by someone in an animal costume. In a weird and morbid way, it felt like they were crossing the finish line of a marathon with food and supplies waiting for them at the entrance. 
For some, the travel was several hours and for others it took days if not weeks. They had small suitcases and bags with strollers and some with pets. Some were pushing their luggage in shopping carts. All looked bewildered - for "shit" sake, I was bewildered. I watched family after family walk through a narrow path (about 300 yards long) past hundreds of tents filled with supplies from formula to diapers to water to soup. So many humanitarian organizations, news crews and governmental officials. Not a single person was denied entry - not one. They said it was a slower day with only a few hundred people coming through the border because the Ukrainian military held their ground near Kyiv. I couldn't imagine a busier day because it already felt crowded. It's only a matter of time we were told. Imagine if everyone in a major US city had to flee - that is the fear those on the border shared. The anxiety in their voices was palpable.   
I saw one family reunited. The kid smooshed between the parents and the husband rushing them out of the crowded crossing. The embrace was nothing I have ever seen.  It gave me chills and made me miss my wife, Batia. Another mother with children maintained her composure until she crossed the border and then she broke. She could not stop weeping – they were finally safe. 
At the end of this narrow path were busses packed with people going to various places. Everyone standing and waiting. 
All of it was overwhelming to witness. I was heartbroken and infuriated at the same time. One refugee shared that people in Chernigov have been trapped for weeks. She was able to flee with her sister. But prior to that, they sheltered for 7 days in a basement without electricity and running water. The clothing she wore was provided to her from others. She shared that when children tried to go outside to find bread and other food, the Russian soldiers fired at them. Schools, she said, were completely destroyed.    
This was only one of several stories we heard from families separated. One mother shared that she told her 15-year old daughter Sophia, it's time to grow up now. She could not hold back her tears as she recounted the dark days in unsanitary and crowded conditions sheltering near her home. Nobody is safe in these cities, she said. Nobody knows if they have homes to go back to. Nobody knows what the next day will look like. 
What do we do about it? Let's start with what we know. We know this is only going to get worse and the needs will only grow. We know that the infrastructure on the ground is there because of the Jewish Federation, it's partners, so many other humanitarian organizations and the Polish government. But more is and will be needed.  
We absolutely need to stretch our giving. We absolutely need to be a voice for Ukrainians. And we absolutely need to push our government to do more. There are millions of refugees that need our help and need our voices. There will be millions more in the weeks and months ahead. 
I don't know what it feels like to flee and to be separated from loved ones. I don't know what it's like to lose everything. I can't empathize with such pain. But I'm sure as hell going to find a way to advocate for Ukrainians, tell their stories, and give them some hope for a better tomorrow. Why?  Because! If you feel the same, please donate here: https://jfeds.org/UkraineFund22