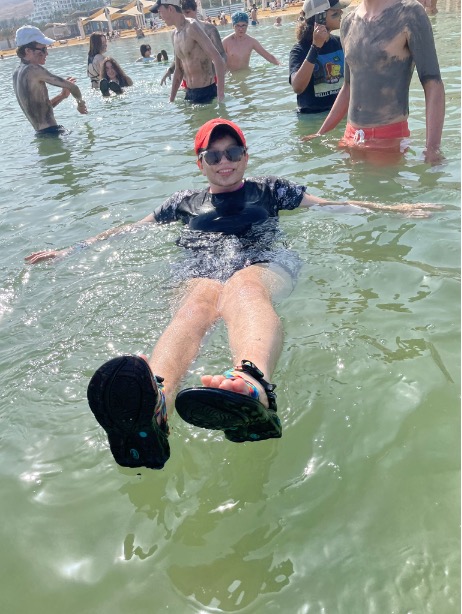 By Finn Crowe 
Hello again, it's Finn Crowe! For new readers, I am studying abroad for a semester in Israel at Heller High, and have been documenting my travels in the Jewish Observer. I've been on many great adventures in the past month, so I'm here to tell you about them!  
First off, I hiked up Mount Masada to watch the sunrise. That was an insane day for me. We all woke up around 3 am to get on the bus and drive from our campus on Kibbutz Tzuba to Masada. We arrived at about 5 am right as the gates opened. We hopped off the bus and did some stretches before hiking up the snake path of Masada. A little thing about me, though, is I am a terrible hiker. I have little to no balance, not to mention when we hiked it, I had recently recovered from Covid. Our teachers told us we were going to be fine, and everyone would make it up, so I wasn't terribly worried… until we actually started hiking. I wasn't even to the entrance of the trail before I was wheezing like a dying dog. What met me at the trail didn't boost my spirits either. At the entrance, I was met with stairs; lots of them. They were not smooth concrete stairs either. No, they were rocky and uneven. The only railing I had was the side of the mountain, meaning I would be stumbling all the way up; and that's exactly what I did. I had finally gotten up the first flight of stairs and I already felt like death. I was way behind the rest of the group with my only companion being one of our counselors. She urged me to keep going, so I did. I'll spare you guys the full story for the sake of brevity, but the whole hike up was quite a feat. It was all steep uphill with stairs scattered along here and there. I eventually made it up to the top. Let me tell you, when I made it to the top, it was the best feeling of my life. I almost cried because I was so happy. The rest of my time at Masada went by smoothly. 
After my adventure at Masada, we went to an Arab village and rode camels. I loved every second of it. The ride was bumpy, but very fun. We got off the camels and ate some food at the village before heading off to go to a hostel to stay the night. The hostel was basic, and the beds were uncomfortable, but we were so happy to finally get some rest after such a long and tiring day. The next morning, we got up, got on the bus, and headed to Ein Gedi. It was a beautiful (and much easier) hike and we got to splash around in a waterfall. Afterwards, we went to the Dead Sea. It was about an hour drive, and by the time we got there, it was around lunch time, so we ate at a nearby mall. After lunch, we put on our bathing suits and went to the beach of the Dead Sea. The counselors bought mud for us, and we all lathered ourselves up with it before going in. Once I got in deep enough, I immediately went on my back and started floating. No matter how hard I tried, I couldn't push myself down. It was like I was wearing a strong life vest. At the bottom, it was filled with salt balls. Did you know that the Dead Sea was so salty, salt crystals actually formed inside of it? I sure didn't. We had a blast there, and I really hope we go again. 
Our next destination was Eilat. We stayed at a much nicer hostel there for the weekend. Unfortunately, for most of the time it was raining, which rarely happens in Eilat, so we couldn't do much. We settled on going to the movies, and I saw the new Spiderman. It was a really good movie, so if you haven't seen it yet I highly recommend you watch it, even if you don't really watch Marvel. The next day was fortunately much nicer, so we went snorkeling in the Red Sea. I saw so many cool fish and coral. It amazed me how abundant the sea life was even that near to the shore. I wish I had an underwater camera to take pictures of it, it was beautiful. 
After our big trip to Eilat, we laid low for a bit. We went on a few field trips here and there, but we mostly spent our time at the Kibbutz. One of the field trips we took in that period of time was a trip to the Western Wall. I got to pray and put a note in the cracks of the wall, which was an amazing feeling. Fast forward a few weeks to around last week. It was the start of the month Adar-Bet (there's a leap month on the Jewish calendar this year, pushing Purim back a month.) Every start of a new month on the Jewish calendar, a social justice group called Women of the Wall comes to the Western Wall to pray. Basically, the purpose of the group is to raise awareness about the need for men and women to have equality at the Western Wall when they pray. I highly encourage you to look it up, it is a very empowering movement. Our school went to Women of the Wall to pray with the women in the organization. All around our little group of women praying was a sea of orthodox Jews wearing black trying to silence us and stop the prayer. I've never seen anything like it, which is why I felt it was that much more important to be there and support these women. Even in all the hatred around us, we had the power to spread love, which I think is a very important message that everyone should follow. I encourage you, dear reader, that when you are surrounded by hatred, be the one to spread love and kindness. 
With that, I would like to thank The Observer for letting me continue to write my experiences. It has been such a blast to share my adventures with you all and I can't wait to see what the future has in store. See you next month, everyone! 
Photo credit: Shailee Bayer