Chabad of Nashville
Chabad to host two TGIS celebration in December 
 Start your Shabbat off right with good friends, great conversation, and excellent kosher cuisine, all seasoned with the perfect amount of spirit and joy. TGIS is a "Club Med Shabbat: An all-inclusive Shabbat experience." Enjoy a Friday night Shabbat dinner replete with traditional dishes. Blended with spirited singing, a Chasidic tale, and a chance to meet some wonderful new people. TGIS will be held on Friday evenings, January 14, and 28, at 6:30 PM at Chabad of Nashville. 
There is no cost to attend the TGIS Shabbat experience, however we kindly request that you RSVP by letting us know you will be attending at chabadnashville@gmail.com 
BLT – BAGELS, LOX AND TORAH 
Join friends for a morning of bagels, lox and Tanya (Jewish mysticism) on the first Sunday of every month, beginning on Sunday, December 2, 2022, at 10:00 AM. Partake in a delicious spread of bagels, lox, cream cheese, and freshly brewed coffee as you learn the weekly Torah portion and its relevance to your personal life. There is no cost to attend, however kindly RSVP at Chabadnashville.com 
The Jewish Women's Roundtable with Torah & Tea 
What can be more welcoming and cozy on a cold winter day than a cup of tea, an inspiring read, and friends to socialize with? Join Mrs. Esther Tiechtel for a Jewish Women's Roundtable for Torah and Tea, on Shabbat afternoons at 12:30 PM, at Chabad of Nashville. At each Torah & Tea session, women will gather for group study of Talmudic Ethics, and engage in stimulating discussions around Jewish ethics, and enrich the moment with spiritual insights into life.    
This women's roundtable is an interactive spiritual journey where we study, discuss, share support, and apply these inspirational ideas and teachings to our personal lives. A selection of tea, coffee, and homemade refreshments will be offered. Come to one class, all classes or whenever you have a chance! No need to sign up and materials are provided. The only requirement is a desire to learn, to meet friendly Jewish women and to delight in the incredible insights in our Torah. 
Chabad Chicken Soup Squad Winter 2022 
All about town people suffering from the common cold, strains of flu, or maybe a strain of Covid, and are looking up and feeling a bit apprehensive. 
 Never fear:  The Chabad Chicken Soup Squad is here to the rescue. Chabad is presenting the Winter 2022 Chicken Soup Squad, as various local chefs prepare authentic chicken soup, and a dedicated team of volunteers who deliver fresh heartwarming chicken soup to those under the weather, or are not feeling well. This chicken soup broth has earned rave reviews -it's the original Jewish penicillin. 
For anyone who would like a free quart or two of this unique chicken soup broth, or would like to volunteer with delivering this soup to those who are under the weather,  please call Chabad's Chesed desk at 615-646-5750, or email chabadnashvilleoffice@gmail.com. 
Spice It Up Tu B'Shvat Celebration 
Chabad of Nashville presents Spice It Up!  Join us for this Tu B'shvat Seder on Sunday, January 16, at 7:00 PM.  Tu B'Shvat ushers in the New Year for the tress, nature and all of G-d's bountiful blessings with a fruity nightcap of your own design. The evening will include a tasting of the Seven Species that the Land of Israel has been blessed with, including the pomegranate, the date and fig, the grape and olive, wheat and barley. Come enjoy a tasting of various wines from Israel and a most inspiring and rejuvenating evening. 
There is no charge to attend this event, however kindly RSVP at chabadnashville.com  
Congregation Micah 
Judaism at Micah continues to evolve with courage, compassion and creativity. Stay updated! Go to www.congregationmicah.org, like us on our socials: Facebook; Instagram; @MicahNashville; sign up for our e-blasts; learn and pray with us in person or on YouTube, Zoom and our Livestream. In our tent, there is room for everyone! Access Micah's programs – all free and open to the public - from the front page of our website.  
Want to take our relationship to the next level? Apply for membership! For more information contact Mindy Drongowski at mindy@congregationmicah.org. 
Programming at Micah - January 2022 
Our January Social Action Drive: Virtual Toy & Supply Drive for Champ's Toy Chest" through Amazon - More information on our Social Action page! 
Sanctuary Shabbat Services - Fridays at 6:00 PM  
At Micah, we approach God in many ways: through the power of music and song, the inspiration of words, the beauty of sacred space, and the authenticity of our intention. To fully realize this core Jewish value, we invite you to join us for services that are as diverse as they are engaging, as moving as they are participatory. 
Micah Reads - Monday, January 3rd at 7:00 PM on Zoom 
All are welcome for a Zoom discussion on the book The Book of V by Anna Solomon. Join Education Director Julie Greenberg in conversation for this community event. 
February's book: Bluebird by Sharon Cameron (live author talk)  
Sports Trivia - Tuesday, January 4th at 10:30 AM 
Have you spent the last 25 years of your life wondering who was on 3rd base when Bobby Thompson of the New York Giants hit "the shot heard round the world" to defeat the Brooklyn Dodgers to get into the world series in 1951? Answers to this question and many more of little importance when you join Martin Light and other Micah members for an hour of a sports trivia contest to be held in the Micah social hall on the first Tuesday of every month. All are welcome. Contact martylight@aol.com with any questions. 
What's Jewish About Self-Care? - Thursday nights at 6:15 PM on Zoom; January 13, 20, 27; February 3, 10, 17, 24 
Start off 2022 by learning how to put yourself first, through a Jewish lens! In 7 weeks, you will learn about what Judaism says about emotional, physical, mental, social, spiritual, and practical self-care, and gain tangible ways to build different practices into your every day life. By engaging in Jewish text, chevruta, and mindfulness activities, you will leave feeling inspired and grounded in your ability to show up as the best version of yourself. To register for the class, visit our Adult Education page on www.congregationmicah.org  
Virtual Conversations with Rabbi Laurie Rice: A 2-Part Series 
JANUARY 20 - Shaming, Disagreement & Purposeful Difference: A Talmudic Teaching 
JANUARY 27 - Liberal Zionism and the Troubled Committed: A Shifting North American Discourse 
Featuring Rabbi Kullock from West End; Download the readings and register for the event on our website! Reading the material in advance is strongly encouraged for robust conversation. 
Shabbat service with guest Allison Schachter Friday January 21 at 6 P.M. 
Rabbi Laurie Rice in conversation with the Chair of the Department of Judaic Studies at Vanderbilt University and expert in Yiddish language and literature, Allison Schacter.  
Weekly Events 
Schmooze & Views - Thursday mornings at 10:30 AM 
Keeping the politics off the pulpit but not out of the building, share your views in a round-table discussion on current events facilitated by the rabbi and Dr. Bob Smith. Attendance includes both in-person and virtual options. 
Torah Study - Saturday Mornings at 9:00 AM 
Deep conversations with thoughtful and caring people. Led by the rabbi on Zoom. 
Mah Jongg - Tuesday Afternoons from 12:30 PM to 3:30 PM 
Join our players for an afternoon of mah jongg fun in the social hall! For more information, contact Paula at pgkwn@comcast.net 
Upcoming Programs 
Coming in February! This 4-session virtual class is for those who have no prior Hebrew experience. The class will meet on February 1, 8, 15, 22 from 7:00 - 9:00 PM Central; $180 for non-members and $95 for members; We are currently limiting the course to 12 students. To sign up, e-mail Rabbi Laurie at lrice@congregationmicah.org  
Sherith Israel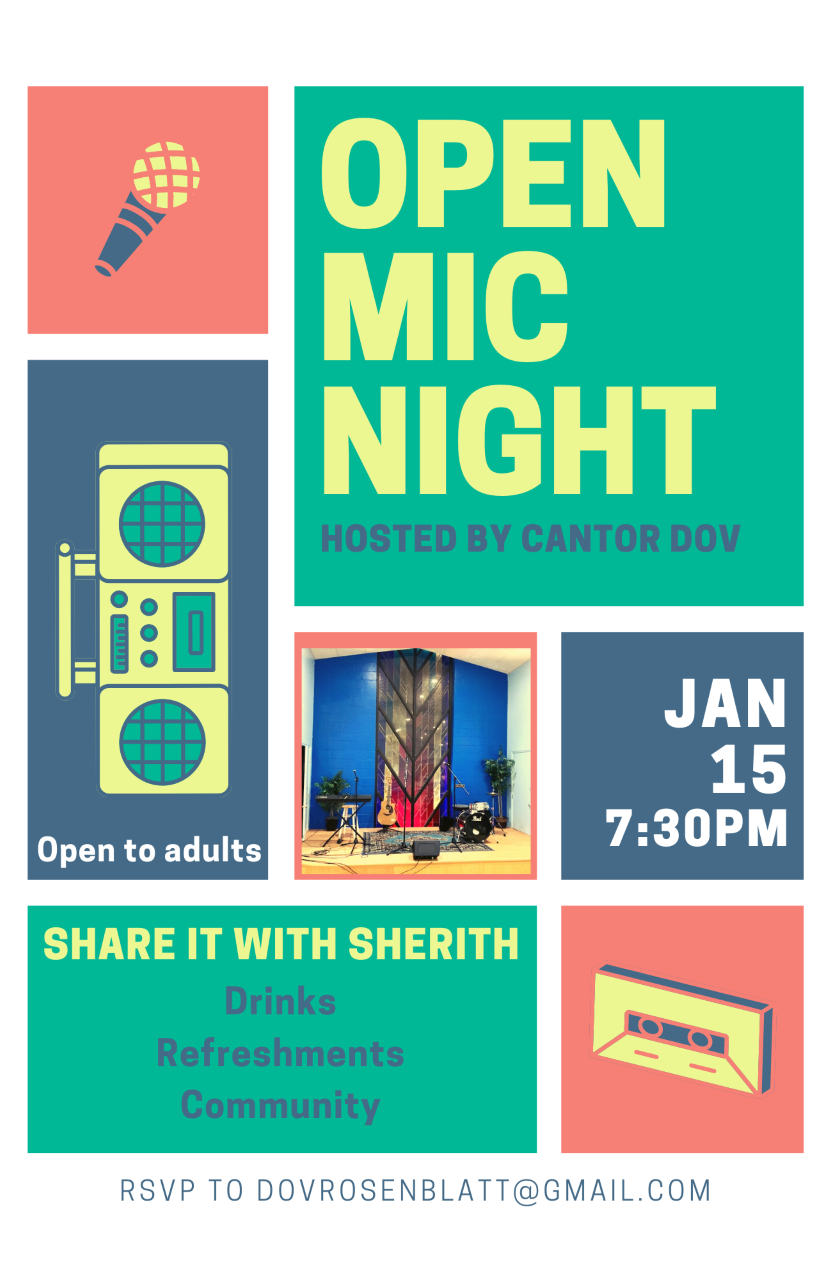 December 2021 Events 
All programming can be accessed via thetemplehub.org unless noted to be in person 
Pirkei Avot: Jewish Wisdom for Today's World 
Every Friday from 5:00-5:40 PM  
Get ready for Shabbat with a little text study!  Each week we will study a piece of wisdom from Pirkei Avot, The Ethics of our Ancestors, an ancient Jewish text still relevant in our own times. 
Zoom Room: https://us02web.zoom.us/j/81973096738 
Lunch with the Rabbi  
Thursday, January 6th, 13th, 20th & 27th from 12:00-1:00 PM 
Bring your lunch and engage with Rabbi Schiftan and guests in a discussion of currents and important issues from a Jewish perspective. 
And be sure to attend Thursday, December 2nd* at Noon with Nashville Metro Police Chief John Drake 
Zoom Room: thetemplehub.org 
Women's Torah Study                                                                                      Every Thursday from 12:00-1:00 PM 
Ongoing weekly women's Torah study led by Patty Marks. 
Zoom Room:  thetemplehub.org 
Shabbat Schedule for December 
Our Shabbat Services will be held in person at The Temple. Please reserve your spot via thetemplehub.org.  You can also watch via zoom from thetemplehub.org.  
 Friday, January 7th ~ 6:00 pm  
 Friday, January 14th ~ 6:00 pm  
 Friday, January 21st  ~ 6:00 pm with Birthday Blessings 
 Friday, January 28th ~ 6:00 pm Social Action Shabbat 
Chevrah Torah Study*  
 9:30a.m. on Saturdays via thetemplehub.org 
Join us for our weekly Torah study on the portion of the week, led by the clergy. 9:30 am on Saturdays.  
Tot Shabbat Tu B'shvat- Birthday of the Trees  
Saturday, January 15th @ 10:00a.m. (for families with children up to age 6) 
These opportunities offer families the chance to celebrate Shabbat with their young children in a creative way. 
Join Us in January with Community Scholar Nechemya Rosenfeld 
January 6th, 13th, 20th, 27th 
Mini-series about Jewish Medical Ethics 
Nechemya Rosenfeld hails from Jerusalem, where he taught general studies and Tanakh, Bible, at Keshet Talpaz Elementary School.  A graduate of Yeshivat Har Etzion, a seminary combining advanced Talmudic studies with military service, Nechemya has a Bachelor of Arts in Behavioral Sciences from Ariel University and is completing a Masters of Arts in Jewish Education at the Hebrew University of Jerusalem. He became an educator through Teach First Israel, a program modeled on Teach For America to promote educational equality.   
Today, he teaches in the Akiva Jewish Day School and the Jewish Middle School of Nashville.  He also teaches youth and adults at Congregation Sherith Israel and West End Synagogue.  An accomplished musician, Nechemya has served as a scholar in residence and cantor in Israel; Frankfurt, Germany; Sydney, Australia; and, Rhodes, Greece.  He is blessed to be sharing his Tennessee adventures with his wife and fellow educator, Batya, and Shmuli, their 2-year-old son. 
Check TheTempleHub.org for more information. 
Are You Looking for a Creative Outlet? Join Writers of the Lost Ark!  
"Writers of the Lost Ark" meets the first Wednesday of each month currently via Zoom. This is a safe, supportive, and no pressure environment to share your creative ideas whether they be stories, songs, poems, or prose.  The group is open to all regardless of how little or how long you've been writing. Those curious to find their creative side are welcome as well. 
Wednesday, January 5th ~ 7:00-8:00 pm 
For more information, please contact ninapacent@bellsouth.net. 
Go to thetemplehub.org for Zoom info. 
W.E.L.L. 
Women Engaged in Living & Learning 
Tu B'shvat, our land, our legacy 
Jewish Learning on Your Own Schedule 
Look for podcasts and videos prepared by musicians, scholars and clergy! 13 Attributes of God, Jewish Cooking Demos, Clergy Chats, Inside Israel and Jewish Music Sessions.   Sessions will be posted on thetemplehub.org 
West End Synagogue – January 2022 
Introduction to Judaism Class with Rabbi Kullock is back in person! 
Join us every Sunday from January 9th - May 1st, 2022, from 9:30am – 11:00am 
For more information contact Linda Sisselman @ linda@westendsyn.org 
Shacharit 
Join us for in-person morning minyan!  
Sunday services will be at 9am and Monday-Friday will be at 7am 
Daily Mincha (afternoon service) or Maariv (the evening service)  
depending on Daylight savings times 
Join us for daily Mincha/Maariv in person or on Zoom at 6:00 p.m. 
Kabbalat Shabbat You are invited to join us for Kabbalat Shabbat on Fridays in person or on Zoom at 6:00 p.m. 
Morning Shabbat services. You are invited to join us Saturday mornings at 9:30 a.m. in person or by zoom. 
Talmud class on Tuesdays 
Rabbi Joshua Kullock teaches a Talmud class on Tuesdays at 7:30am. 
Torah class for Women: 
Join Rabbi Joshua on the first Wednesday of each month at 11am via Zoom  
(call for details) 
Torah class for Men: 
Join Rabbi Joshua the second Thursday of each month at 12pm. 
Miriam's Torah Class: 
Wednesday, November 3 at Noon 
Seniors - Lunch & Learn is Back! 
January 12th – Learn with Rabbi Daniel Hoffman 
January 26th – Learn with Sherri Holzer of Simply Sherri  
Time: 11:00am - 12:00pm & 12:00pm – 1:00pm for Lunch 
Contact Linda Sisselman @ linda@westendsyn.org